Adding your goods to Amazon is a good way to extend your client-base, selling more on one of the worlds biggest marketplaces. Making listings on Amazon.com website requires from the sellers to use product identifier to add new product. If the product is well-known and widely-sold, then most likely it already exists there, so you can simply map it. However, in case you are going to list the item you yourself developed, some exclusive goods or any of those which are not yet included on the site, you might stuck at one important point – unique Amazon product code.
What is Amazon Product Identifier?
If you think that you will be able to input any value for this, you are mistaken. Generally, it should be some officially documented, unique code given to your product, using which it can be recognized worldwide (used internationally to find product information across databases). In most cases, the common identifiers used by sellers are UPC, EAN, or ISBN. If you don't provide any, generally, you will receive the error message stating that you are not able to proceed with listing the item without this information. More information on the mentioned product codes you can find here – http://www.amazon.com/gp/seller/asin-upc-isbn-info.html
Is it Possible to Sell on Amazon without UPC/ EAN/ ISBN?
There are some ways to place your goods at marketplace not having at your disposal any of the above mentioned codes to identify your products:
– List Items to Categories That Do not Require Codes
Yes, on Amazon there are categories that do not require codes. You can perfectly go without codes if your product fit to any of these Non-Matching categories or they have some exceptions that might be a work-around for you:
Everything Else
Collectibles
Jewelry**
Beauty**
Personal Care**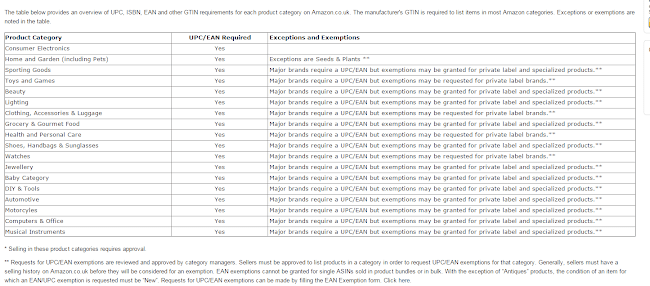 ** Requests for UPC/EAN exemptions are reviewed and approved by category managers. Sellers must be approved to list products in a category in order to request UPC/EAN exemptions for that category. Generally, sellers must have a selling history on Amazon.co.uk before they will be considered for an exemption. EAN exemptions cannot be granted for single ASINs sold in product bundles or in bulk. With the exception of "Antiques" products, the condition of an item for which an EAN/UPC exemption is requested must be "New". Requests for UPC/EAN exemptions can be made by filling the EAN Exemption form.
Source: http://www.amazon.co.uk/gp/help/customer/display.html?ie=UTF8&nodeId=201741190
– Indicate Part Number Instead of UPC/ EAN
Some Amazon categories can accept part number as unique product identifiers. These are:
Tools
Computer parts
Sports and outdoors
Watches
Office products
And additional categories…
– Ask Amazon for an Exception
If you need to place your product into category that requires approval, but you don't have code you can try to request an exception from Amazon itself. –
http://www.amazon.com/gp/help/customer/display.html/ref=hp_rel_topic?ie=UTF8&nodeId=14113001
How to Obtain Product Code
In case you do not have UPC, ISBN, or EAN for your items, you can request it from the manufacturer. If you actually the person who develops the entity, you need to visit the official institutions that register goods and assign to them identification numbers.
Sellers in the United States may go directly to one of these websites:
Alternatively, you can search for services that offer codes creation. The prices usually depend on quantity, so you can simply Google for suitable one.
If none of the above mentioned ways suits your needs, you might be interested in trying out Amazon Product Ads. Your items will be displayed to buyers browsing similar items in the "Available at External website" section.
You own WooCommerce, Magento or PrestaShop store and would like to synchronize data with Amazon, creating listings massively, instead of adding products one-by-one? Check the way to automate this process:
For PrestaShop: www.prestashopmanager.com/prestashop-amazon-integration
For WooCommerce: woocommerce-manager.com/product/woocommerce-amazon-store-manager-addon/
For Magento: www.mag-manager.com/magento-amazon-integration
Not sure which way to follow? Take the easiest one!